Mega Mount Industrial Gases Sdn Bhd








Message From Our CEO | COO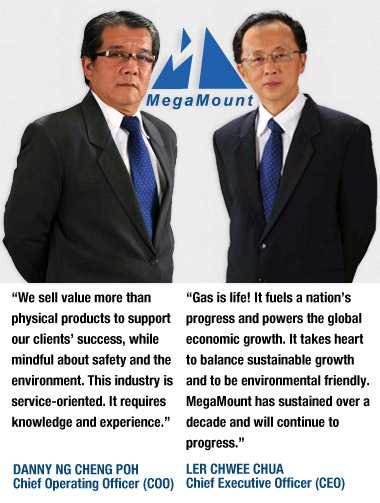 Industrial gases consumption has long been a measure for a nation's industrialization and progress.
Over a decade of engagement, Mega Mount has profited from the market demand along with the nation's growth, and has been accumulating critical industrial knowledge and experiences. We know our position in this industry.
Today, with the booming Asian economy, especially in China, India and South-East Asia, the demand for industrial gases has increased tremendously. This is exciting, and we are well position to grow with the economic boom.
The key to business success relies on talents. We are rich in talent and passion. This talent and passion, combined with our corporate culture for excellence, makes Mega Mount a dynamic, growing company that continues to thrive even in the most challenging economic conditions.
Providing industrial gases and gas related services safely, reliably and economically is a great responsibility that we take seriously, while balancing profit making and social responsibility. At Mega Mount, we epitomizes on the value we bring to our clients, and it's what differentiates us within the industry.
Our distribution centers :-
Johor Bahru
Mega Mount Industrial Gases Sdn Bhd
PLO 192, Jalan Cyber 8, Kaw. Perindustrian Senai IV, 81400 Senai, Johor, Malaysia.
Tel: +607-599 8388 Fax: +607-597 1188

Melaka
Mega Mount Industrial Gases Sdn Bhd
No. 23, Jalan PM6, Taman Perindustrian Merdeka, 75350 Batu Berendam, Melaka, Malaysia.
Tel: +606-317 8721/22 Fax: +606-317 8735